To ensure that you are fully prepared for any game as a player, you should make sure that all your body parts are covered using the right protective gear. Protective gear such as football back plate plays a huge role in absorbing impact arising from violent contact of the body with other players. No single player ever dreams of getting off the gridiron limping with pain.
Like all other protective equipment for football, a quality backplate is an indispensable item for all players. A great back plate ensures that you are protected and that you can still perform without it bogging you down.
Football backplates can easily be attached to a majority of shoulder pads and they protect the spine, lower back, and kidneys of a player from injury by reducing the impact received from hits on the back. Back plates are designed for adults, teens, younger players and are lightweight, easy to remove, and not bulky. Some players also prefer custom football back plates. That said, below is a review of the best back plates in the market.
#1. Gear Pro-Tec Z-Cool Varsity Back Plate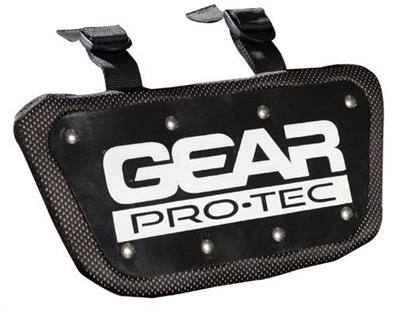 Starting us off is the incredible Gear Pro-Tec Z-Cool Varsity Back Plate. The best feature of this back plate is the Z-COOL system for moisture transfer. This moisture transfer system has proven to have the ability to provide adequate ventilation and circulation of air to the player and also does a great job of wicking away sweat to keep the wearer both cool and dry throughout the games. The foam system contained therein this back plate is a 3D Airflow system that does a great job evaporating the sweat in a bid to improve this back plate's comfort.
The interior of this back plate has been built out of vented reinforced plastic which not only makes this a very comfortable back plate but one that is very lightweight when you are to stay in the game for long and require adequate protection. The back plate doesn't arrive with grommets but there are attachments provided to lower it or raise it all depending on the height of a player's torso. This back plate has also been coupled with an amazing rib protector and it will allow a player to stay as long as he wishes to in the game with all the protection he needs from all sides.
The pros
Protect a player from all sides.
It's a very comfortable and lightweight football back plate.
It arrives having adjustable straps to use in adjustment of height according to needs.
It offers the wearer awesome ventilation and air circulation.
The cons
It doesn't come having grommets
#2. Gear Pro-Tec RAZOR Back Plate
This is another product from the same company as our previous back plate which performs a great job of protecting a person's lower back. You should note however that this back pate is smaller and is made for players who need narrower protection. This is a quality back plate featuring some of the industry's cutting edge technologies found in other products from the company.
The side panels of this back plate are made from HEX foam and this works in conjunction with the SAS TEC foam meant for the spine so as to provide unrivaled protection while its exterior that is corrugated gives it more strength. This means that when you purchase this back plate you have yourself a very durable product that will protect and serve you for a longer time.
An amazing feature coming with this back plate is the T nut and attachments for screws which make it easier to attach it to a number of shoulder pads found in the market.
The pros
It has a corrugated exterior for added strength.
This is a flexible and lightweight football back plate.
It comes with the T-nut and screw attachment system that is universal.
The player is kept cool and dry by the side panels made of compressed Hex Foam.
The cons
It is a smaller sized football back plate.
#3. Schutt Sports Air Maxx Back Plate
Schutt has never been disappointed with any of its products and the Schutt Sports Air Maxx Back Plate is not an exception. The first thing anyone with this back plate can attest to is the fact that this is a very light and comfortable back plate. It is pretty much very easy wearing and playing in this product for a longer period of time without it bogging you down.
It also fits perfectly underneath the uniform jersey which has given it a good reputation amongst players. On top of that, this football back plate features awesome ventilation and has an adequate circulation of air to make sure that the player is cool and dry in games.
This back plate arrives having a number of attachments that can be used to attach it to a number of shoulder pads. These attachments give a player the allowance of wearing it both low and high depending on their torso's height. This is a back plate meant for varsity level and its inbuilt ruggedness has been proven to withstand big impacts received by the player.
This is an impressive back plate coming with the one size fits it unless the person in question has a very wide back. It is available in a variety of colors and you are at the liberty of picking one to match your team colors.
The cons
Rugged which gives it the ability to withstand big impacts encountered.
It comes with a number of attachments for a number of shoulder pads.
It's a light and very comfortable back plate.
Has adequate ventilation to keep the player cool and dry during games.
Available in many colors.
The cons
Not meant for people having a very wide back.
#4. Douglas SP Series Removable Football Back Plate – 4 Inch
The Douglas SP Series Removable Football Back Plate has gained a good reputation for offering quality lower back protection to players who need to keep the vulnerable blindsides safe from dangerous impacts.
This back plate contains added grommets which allow a player to lower or raise it so as to attain a comfortable position. This is an amazing back plate that does a great job protecting the player's lower back, kidneys, and spines from punishing hits.
#5. EvoShield Youth Shoulder Pad Back Plate
This is a great back plate coming with a slightly different shape as compared to other back plates but it's a design primarily meant to provide protection to the spine. This is a very comfortable back plate for the wearer although much can't be said about the ventilation. You may easily find an issue if you are the kind of player who does sweat a lot or if the other accessories you have lack adequate breathability.
Nonetheless, this back plate proves to be to suffice a player when used in conjunction with a quality rib protector. It does an impressive job in impact absorption ensuring that a player remains safe throughout the game. It arrives with added grommets that can be used by a player to attach to their shoulder pads depending on the torso's height. It can easily be attached to a number of shoulder pads which is awesome considering the fact that each player has his own preference of shoulder pads.
This is a light back plate offering adequate protection on the gridiron with the only issue maybe being ventilation.
The pros
Has good breathability.
It's light and comfortable.
You can attach it to a number of shoulder pads.
Does an amazing job in protection of the spine.
The cons
Its primary focus is on the spine and back protection might not be as other back plates.
Ventilation is a little issue with this back plate.
#6. Schutt Sports Men's Air Maxx Tpu Protective Back Plate
This is another incredible back plate that we are reviewing today. One of the main reasons that make this a very special piece of equipment is due to the fact that it is designed using the TPU system of cushioning which is an advanced technology that has been used to replace the traditional padding design of foam in conventional back plates. This being said, the back plate has proven to have the ability to offer maximum protection to a player's back whilst being able to accord him comfort and breathability.
#7. Douglas DP Series

Removable Back Plate 4 inch

Despite the relatively low profile status of this back plate, you will be surprised at what it has to offer. It's a relatively unknown back plate which is the reason why a number of people haven't got the chance of enjoying all the quality features that it poses, especially in regard to protection.
To begin with, this product doesn't disappoint in terms of weight, you will come to find out that this is one of the lightest and most comfortable back plates out there. In addition to that, this back plate fits perfectly underneath the jerseys, which is a huge plus for many players out there.
When we move further ahead, you will come to realize that this back plate arrives having grommets that give players the allowance to raise or lower it to their preferences and this is in a bid to have it in the correct height. This back plate has been made in such a way that it's easy attaching it to a number of shoulder plates but it's especially exceptional with the Douglas DP shoulder pad.
Despite the fact that its back isn't as raised as a number of back plates, it still is able to offer a player adequate protection from impact from hits.
The pros
It's a well-ventilated back plate.
It comes having spare grommets that give a player the allowance of raising or lowering it.
It can easily be attached to any brand of shoulder pads
It's very light and comfortable.
The cons
Its relatively unknown and as such might be overlooked
#8. Schutt Varsity Football Back Plate
With this back plate beneath your jersey, you are assured of all protection that can be accorded by such a great football accessory. It is an adequately wide back plate ensuring that the lower torso is protected. When combined with a good rib protector, this back plate does a wonderful job of keeping you injury-free in moments of impact.
The corrugated aspect of this back plate is another major reason to own this awesome product. This gives the back plate all the strength needed to offer a player maximum protection on the gridiron. This is also a well-ventilated accessory and regardless of the weather condition serves well in keeping the wearer cool and dry throughout the game.
On top of all those perks that we have mentioned above, this back plate's inner lining is very comfortable and the player can wear it for extended periods of play with any strain. It also proves to be very light. It also comes with some attachments for both high and low points of attachments depending on the height of the player's torso.
The pros
It is a light and comfortable back plate.
It is well ventilated
Grommets are provided to give more options for attachment.
The cons
There are some players who may not find it wide enough for them.
#9. Xenith XFLEXION Back Plate
One of the newest and most reliable football back plates available on the market today, XFlexion Back Plate features a design that promises the protection of your lower back.
This back plate provides players the comfort of changing their shoulder pads as this can be attached to any shoulder pads aside from Xenith. This is also great for all ages as this fits almost anyone while ensuring that they are provided the best protection worthy of their money.
The pros
It can be attached to all Xenith shoulder pads and most other brands as well.
Its durable and adjustable coated nylon straps provide easy attachments.
Suitable for all ages with sizes in Small for Youth, and Large for Varsity
The cons
The screw may come off easily but you can alternatively use zip ties.
#10. Shock Doctor Football Back Plate
Made for maximum protection that comes in an exclusive design, Shock Doctor Back Plate guarantees protection for your lower back, kidneys, and spine. Being a leader in sports protective gear, this back plate safeguards you against blind impacts that may come from the side or back. Its back brace can also be easily and strongly attached to any shoulder pad for added protection.

This also comes with a contoured foam interior and a curved pad to fit the back which is specifically designed to absorb impact and provide comfort and is well-ventilated to release heat during the battle.
The pros:
It provides maximum protection for a pea performance.
It has ventilated air channels that aggressively release heat.
It has hardware included that can easily be attached to most shoulder pads.
It has a contoured foam interior that absorbs impact.
The cons:
May need to drill holes to actually mount the product
Screws may not be best but can be resolved with zip ties
#11.

Riddell Youth Power Volt Shoulder Pads with Back Plate
If you are looking for football shoulder pads with back plate built-in then look no further. This amazing design from Riddell will definitely satisfy your needs. It comes with black and volt green color and its size varies from X-small to X-large. You can click on the product image to read the reviews from people who are using it.