Whenever a discussion about football equipment arises, we can all agree that football cleats are a very essential piece of equipment. This essential role that they play literally keeps the players on the ground.
When playing football sometimes, the weather can usually turn for the worst. Regardless of what the weather does call for, icy, rain or snow, having quality cleats for the game is very important. Also having the appropriate footwear helps in preventing injuries in the long term as well as short term.
Top 10 Football Cleats For Youth & Adults Reviews



#1. Adidas Performance Men's Crazyquick Mid Football Cleats
To start us off are these are meticulously hand-made football cleats which ensures that they are of the best quality possible and as a result see good use with a number of elite football players. The fact that they are strong, durable and light cleats is enough reason for their wide use and in a special way go the lengths in ensuring that a player's performance is enhanced. These are mid-cut cleats having an upper of TECHFIT which gives them an awesome grip for a play that is prolonged, the laces are very tight and strong ensuring that they do not get untied as the play is on.
When it comes to performance enhancement, a quick frame plate is featured by these cleats which have been proven to offer the players amazing speed as well as traction. Due to the lightweight of these cleats, they do not bog a player down with needless weight which implies that a player is capable of attaining top speeds for all those times needed to get the ball across the goal.
These are also very flexible cleats which makes them very comfortable and thus enhances the feet' natural movement once they are on. The shoe's interior is padded and its heel is built out of quick form heel padding to give the player maximum comfort.
The sole of these cleats is man-made and long-lasting. This ensures that not only is it flexible by that it plays a very crucial part to ensure maximum performance as a player wears these football cleats. They are finally available in a variety of sizes as well as color and the sizes catering for youth, pro, and mature players are available. So if what you are looking for is comfort, speed, and durability, give these a try.
#2. Under Armour Men's UA Highlight MC Sneaker
This is a very elegant pair of cleats made by the sports equipment giant Under Armour which is very great in playing football with. These shoes contain a synthetic shoe sole having a shaft measuring 8 inches approximately from the arch. These football cleats also feature the Under Armour ClutchFit which wraps the foot of the player for wonderful support which gives the player incredible ability to run on the gridiron. Its tongue that is 3D molded is made to give a player comfort that is unrivaled and extra protection to the feet with the 4D foam footbed which reduces pressure form the cleat.
#3. Nike CJ Elite 2 TD Mid Football Cleats
Here is one of the best football cleats in the game. These were created by Clavin Johnson who is a retired wide receiver and is able to provide support, speed, and durability to the owner.
This is a second edition of the product and will make a player really appreciate what Nike has managed to make. The features lock strap is one of the most amazing features of this pair of cleats. This is a very light football cleat which is only one and a half pounds and has been molded to offer durability which is breathable in every product. A full fit type of sleeve offers the player a kind of fit that is exceptional. No slippage of the foot has been experienced with this football cleat and the outsole allows the player to leave opponents in the dust. These are football cleats not only amazing for offensive players but can also be used by defensive players.
The pros of this pair of cleats
Minimal slippage when wearing them.
Offer great durability.
It can be used by different position players.
The Cons
It might be considered a little lightweight for Nike.
#4. Adidas Perfomance Men's Turf Hog LX Low Football Cleat
These are a great pair of low cut football cleats. An amazing feature to start us off will surely be the mesh upper built out of synthetic materials. This ensures that the cleats have great breathability without compromising the strength and looks offered by these cleats.
Also, if you take a look at its sole, lots of studs running multi-directionally exist. This implies that a player is able to get better acceleration as well as the ability to stop in any given direction. The fact that this cleat is also low cut means that it's much more compressed implying it's stronger than a number of cleats available. This means that you have obtained cleats that are very durable.
Looking at the interior you will notice the EVA midsole that has been molded. This is a kind of midsole which conforms to the feet of the player and shapes onto them in order to provide comfort that is unrivaled. The midsole also gives the feet extra level of protection from all sorts of impact implying that this is a very good shoe option for players playing in positions whereby they are likely to receive a lot of hits.
This pair of cleats arrive in a number of sizes but sadly the same can't be said of colors. The only options are black and white. That said, the lightweight and performance nature of these pairs of cleats as well as the multi-directional spikes means that a player will find all that they look for in this shoe.
#5. Nike Lunar Superbad Pro TD Men's Football Cleats
Are you looking for great cleats for football? Look no further. These Nike made cleats built out of neoprene and a sloe of TPU will for sure hold anyone up throughout the season.
This cleat is made up of three layers: the upper, midsole and the outsole. The material for the upper is made from synthetic leather which fits and maintains the feet in lockdown. A lunarlon foam is featured in the midsole which acts as a cushioning for the player's foot in every move. The outsole has been molded for a kind of grab that is superior when contrasted to a number of other cleats which makes this a top-notch product.
These are a kind of cleats which are a combination of power and quickness which has given this product from Nike a good reputation.
The Pros of these cleats
Are perfect for wide feet.
Are commended on artificial turf.
The Cons
Are heavier.
Not good for grass play.
#6. Under Armour Men's Breathe Trainer Football Shoe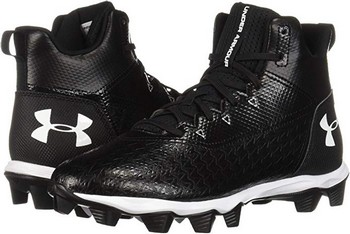 Made with a stretch‌ ‌mesh‌ ‌upper‌, Under Armour Men's Breathe Trainer Football Shoe is made for a ‌lightweight and ‌breathable‌ ‌feel‌. Its synthetic heel is also especially designed for an added stability and support in addition to its integrated lace lockdown system. The feet being locked by this technology means that the player will have 100% comfort and support. These cleats also offer super traction and the wearer can, therefore, be able to run and also stop faster and finally be able to cut through opposing players without much effort.
Go the extra mile when it comes to durability and flexibility in the field where your expectations will never fail.
#7. Nike Vapor Carbon Elite TD Mens Football Cleats
Look around and you will realize that the Nike Vapour Carbon Elite TD is one of the best looking cleats for football around. With the variety of colors that exists to pick from as well as sizes, every player is given the chance to look as individual as they possibly can.
These are cleats built out of a synthetic material which has a sole of carbon fibre. For the cleat's upper part, a kind of technology referred to as ZERO SPACE is used and has room only for the stabilization of the feet.
The quarter panels that are Nono-lasered are a nice blend of support and comfort in every use. For the outsole of the cleat, the plate that is carbon fibered and the patterns for traction are installed so as to make this an explosive cleat play after play. These cleats are billed as the fastest in football.
The Pros
They feature a lightweight design.
They offer the wearer extraordinary stability.
Are awesome for grass fields.
The Cons
Their sixing is larger than normal.
They have average durability.
#8. Under Armour Fierce Havoc MID D Football Shoes for Men

These football cleats as far as reputation are used as a basis for comparison are one of the best in the market. These are cleats that have an athletic cut that is slimmer giving the player better mobility and lesser bulk coming out of the fabric design. Locks exist on these cleats which help in keeping the feet comfortable and tight in the shoe area.
The parent company Under Armour has prided itself on awesome stability and support for all the types of cleats that they make through the engineering of synthetic material for strength, durability as well as satisfaction.
The foam of these pairs of cleats helps in conforming to any wearer's foot. A mud guard is also available on the cleats so that they are easily washable after a snowy or rainy game. These types of cleats keep the player low on the ground for plays that are more elusive on the field getting the wearer past opposing players. The cleat weighs 14.7 ounces implying that they are not meant for speeds but rather for ultimate support for a number of games to come.
The Pros
Have great traction.
Are very strong and durable.
Awesome technology featured on the cleats.
The Cons
#9. Nike Vapor Talon Elite 3/4 TD Men's Molded Football Cleats

Are you out there looking for great football cleats meant for running backs? Well, look no further than the Nike Vapor Talon Elite Football Cleats. These are amazing cleats made out of neoprene and are very light whilst being one of the most durable all around the clattered market place of cleats. The featured Hypefuse technology makes does the final job of making these pair of cleats unrivaled.
Nike has even gone ahead to include pegs that are adjustable for the athlete if he needs more traction or lesser on the gridiron all dependent on the weather condition. These cleats have a good looking design that will resonate with many players and they will be very happy with the support for the ankle offered.
The snug fit of these cleats makes them one of the best cleats for wide feet. They stretch over time which gives the wearer a fit that is more comfortable than when they were last worn.
The Pros
Are adjustable which makes them a huge threat to opponents.
Are very durable.
Are lightweight.
Cons
Lower support implying that rolling of the ankle is more likely.
#10. Under Armour Men's UA Crusher RM Sneaker
If you are a player who is looking for a sturdy performance that has been blended with clean looks then these cleats are the best to go for. You shouldn't, however, be fooled by the meek look exhibited by these cleats. These are very sturdy, light and comfortable football cleats that go a long way in enhancing a player's performance. They are made from a synthetic material which is among the many reasons why they look so fresh and clean.
Amazing support and breathability are offered by the cleats' upper due to the light mesh that it's made out of. With that mentioned, the laces of these cleats beautifully come together to ensure that they don't come off during a play. Maximum support is accorded with the power lock straps included.
A look at the interior of the reveals the featured EVA footbed which helps in enhancing the comfort of the player's foot in the shoe whilst improving its durability. Still dwelling on the shoe's durability, these cleats features an outsole that is very reliable and is rugged to offer great traction on any surface while being able to blend into these shoe's overall look and feel.
Despite their unavailability in any other colours from the primary back and white, they arrive with up to five lace pairs featuring different colours. This is so that a player is able to blend their looks to those on the uniform of the team.
7 Things To Look For When Choosing & Buying The Best Cleats
Never go out to the gridiron without your cleats. This is pretty obvious but the same isn't the case as a number of different types of football cleats are available and getting the perfect one to use can make a big difference on the gridiron. All the time that a player puts in the weight room, the film room and on practicing might just go to waste if he doesn't take his time in equipping himself with the correct gear.
In understanding how to pick the best cleats for your own use, we need to dissect the main parts and see how they really help and how to best go purchasing a cleat that will serve you well.
#1. The Upper
The upper is usually made out of leather or in other cases, synthetic leather. This is the shoe's outermost layer which ensures that all the awesome technology plus the support deployed within the cleat does not break down. In addition, the shoe laces are considered as part of the upper and the straps also work in keeping the feet and ankles in the correct place to help the player prevent injuries.
#2. The Midsole
This is the support and cushioning that lies within the cleat. A number of different types of technologies all coming from various manufacturers exist to make the support of the midsole the best that it has ever been. The better the foam or technology of the midsole, the more effective impact absorption will be and thus a player's feet, ankles and heels will feel healthier. It sometimes does take trying the various types of football cleat so as to really get the feeling of what support does for your type of feet. A number of high-end manufacturers such as NIKE and Under Armour are on the midsole technology cutting edge and a player can surely feel the support accorded during a game.
#3. The Outsole
This is the shoes' bottom where you can see the spikes positioned. Without the spikes, the cleats will just be rendered as normal shoes. A number of configurations of spikes are available that improve the acceleration, stoppage and cutting of a player. The configuration used by a player on their cleats can be dependent on the position that he plays or how they wish to play the position. Some cleats feature permanently installed configurations while others are removable and customizable.
#4. Detachable Cleats or Hard-Moulded
Detachable spike cleats put to use spikes that are longer so as to offer better traction on the gridiron and the player is free to pick the kind of configuration, the spike they want and are free to easily remove the studs and replace them as they wish. These are a bit more expensive when compared to the hard molded cleats.
The hard molded type of cleats has permanently attached spikes to the cleat's outsole. These are high popularity in youth leagues and high school leagues as they normally cost much less and a player can use them just as they arrive without changing a thing. They are a cheaper option to the detachable spike cleats.
#5. High-Cut
These cleats offer the most support for the ankle for a cleat. They are put to use by players whose ankles twisted or rolled or those who purely love the support feeling accorded. Typically used by linemen and defenders as they make many lateral movements but some quarterbacks also use them as well. It's all about the preference of the player.
#6. The Mid-Cut
The type usually rises to the ankles and offers extra support and stability without preventing the movement and speed of the player too much. This is a popular type of cleat in recent times and has been designed for skill players such as quarterbacks, defensive backs, running backs and wide receivers. A player is allowed to wear any cleat he wishes and players usually go away from the position standard cleat opting for something that is more supportive, comfortable and less restrictive. This all depends on the preference of the player.
#7. Low-Cut
Football cleats arrive in various heights which are dependent on the player's preference and the position they play. We will take a look at low cut football cleats which look very similar to cleats used in soccer. These cleats originated from the cleats used in soccer and it makes sense that they are similar in look. The low-cut football cleats stop below the ankle and so the player has lesser protection here but it gives him better mobility, cutting and speed. They are meant for players who are fast and agile who wish to sacrifice the ankle support offered for capabilities in playmaking.
Finding which cleat can serve you well is all about learning what every cleat aspect performs. With options in the type of spike, height and configuration a player is able to narrow down his search to a few cleats that can fit his style and abilities of playing.
I hope you like my list of the best football cleats and shoes. Please look around my website for other football gear reviews and ratings.