As an athlete, you understand how important it is to always stay ahead of the game. To stay one step ahead of the competition at all times is what all athletes strive for. And the right equipment can make or break a whole team. Faceguards are not only a key in safety but also an important key to you and your team's success. Choosing the right design for the right position means you have an immediate advantage even before leaving the locker room.
As demand keeps rising, so does the offer and it can become hard or frustrating to find the right faceguard to suit your needs. That is why we have put together a shortlist of some of the highest-quality products in the market. With the utmost standards of safety and design, Schutt is a leading brand in the market for years so, we couldn't possibly make a list of the best faceguards in the market without mentioning Schutt. So, without further ado, here are some of our best Schutt faceguards:
#1. Schutt Sports VTEGOP Titanium Vengeance Varsity Football Faceguard
Considered the game's strongest material, Schutt Vengeance Titanium Faceguards is made up of Titanium which is more durable and up to sixty percent lighter than traditional carbon steel faceguards. It is specially designed for a reinforced jaw and oral protection and a tapered faceguard design which increases range of motion and decreases the areas of potential impact.
If you're tired of those heavy faceguards, this version of Schutt Football Faceguard is the best for you. You are assured of ultimate protection while maintaining maximum vision.
#2. Schutt OPO-YF Youth Faceguard
This highly famous Oral Protection only mask is ideal for Quarterbacks and Wide Receivers alike, giving you a clear and wide view of the field and the game. Designed for young players but sturdy enough to last until adulthood, this faceguard is a safe bet if you are not quite sure what to get but still want to get a good faceguard. Highly flexible and easy to attach to the helmet, the Schutt OPO-YF Youth Faceguard is a true game-changer.
#3. Schutt Sports VROPO DW Carbon Steel Vengeance Varsity Football Faceguard
Have a little bit more money to invest in your equipment? This model is a good product to not only improve your game but also your safety. Again, a highly popular model made of carbon steel, which also has a great style and a durable build. If you are looking for a guard that will not only make you look good but also ensure you have the best performance possible, this is the one to go for!
#4. Schutt EGOP-II-YF Youth Faceguard
Have trouble getting your faceguard on and off? No need to worry anymore! This faceguard, designed by taking in mind younger players contains a unique system that makes it easier for you to take your guard off at any moment. Also amongst the most sought-after guards in the world, this faceguard is not only durable but also practical, although you may expect to pay a higher price than some of the other options mentioned.
Faceguards for players on a budget:
#5. Schutt DNA ROPO YF Youth Faceguard
This Reinforced Oral Protection Only faceguard is amongst the cheapest yet most durable guards in the market. With its innovative technology allowing easy attachment to the helmet, you have all the time in the world to focus on your next move. If you are looking for a high-quality faceguard made of carbon steel, but you are on a budget, do not hesitate to bet on the Schutt DNA ROPO YF Youth Faceguard.
#6. Schutt Youth DNA Youth Flex Faceguards-EGOP (EA)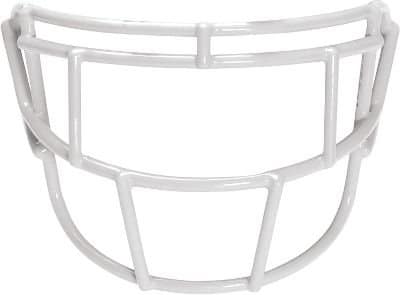 Up next we have the Flex Faceguard. This cheap yet resistant faceguard offers Eyeglass and Oral protection only, giving a definitive edge to players who need an open field view. Ideal for young players, this Carbon Steel guard is the ideal purchase for Running Backs, Wide Receivers, Defensive Ends, and Tight Ends who won't compromise the need for high quality for a lower price.
Faceguards for specific Helmets
#7. Schutt Sports Youth VROPO DW YF Carbon Steel Vengeance Football Faceguard
Quite similar to some of the previous products, this faceguard offers a Reinforced Oral Protection Only design, although, unlike the previous ones, it also includes a double wire. This Carbon Steel guard is ideal for young players and is designed specifically for the Schutt Vengeance line of football helmets. Although slightly more expensive than the previous ones, if you own a Schutt Vengeance Helmet, this is the guard that will take your game and safety to the next level.
#8. Schutt Sports Youth VEGOP II YF Carbon Steel Vengeance Football Faceguard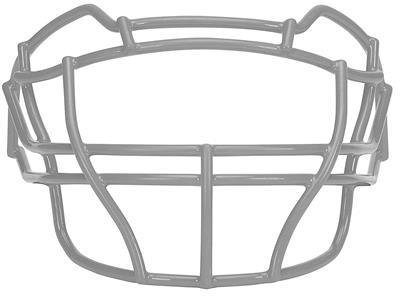 The second generation of faceguards designed specifically for the Vengeance Football Helmets is a clear step up from the first generation. Offered in thirteen different colors, this carbon steel facemask ensures you not only look good playing, but you are also safe doing so. Although slightly heavy, this facemask is a great purchase if you are looking for high quality at reasonable prices.
#9. Schutt Sports Super Pro Carbon Steel Varsity EGOP-II Football Faceguard
If you are a football player you may have heard about the Pro Carbon Steel Varsity Faceguard, the most popular faceguard amongst amateur players. Are you a Running Back, Wide Receiver, Defensive End, and Tight End who already owns the AiR XP line of varsity helmets? If you are, this carbon steel faceguard offering Eyeglass and Oral protection only is the right fit for you and your team.
#10. Schutt Sports Carbon Steel DNA-EGOP-YF Youth Football Faceguard
The next faceguard is ideal for those with a Youth DNA Pro+, DNA Recruit, Recruit Hybrid +, and Recruit Hybrid Helmet. Its design, specific for that model, ensures a personalized experience with a durable lifetime. Available in a wide array of colors, this Eyeglass and Oral Protection only faceguard is a cheap option that will not only fit perfectly with your helmet but also fit your game style effortlessly.
Found what you were looking for? When it comes down to faceguards, it is hard to go wrong with Schutt! Whether you are on a tight budget, need a faceguard that best fits your position or is just browsing for your next faceguard, you are more than guaranteed to have a high-quality, high-durability faceguard with any of the above products. We hope we helped you out and have a good game!