Whether amateur or PRO players, the cutters sports provide performance-driven, sportsmanship spirit, and extreme athlete sports accessories that will keep the player comfortable, flexible, and competitive towards grandeur tournaments such as football, golf, soccer, and baseball.
The Cutters Sports become a pioneer in pursuing the C-TACK grip technology that enhances the performance of the player and controls the clench function. In this way, when the player is capturing the ball, the latter would never slip on the surface of the palms. Prioritize your football tournament now and start performing extravagant moves in capturing and hitting the ball. Trust Cutters Sports as your partner in motivating your inner soul and dream for success!
Our Top Choices For Cutters Football Gloves For Youth & Adult
#1. Cutters REV Pro

The Cutters REV Pro comes in the RevPro 3.0 style. This glove is made from neoprene for wrist comfort throughout the game. The tough stitching takes a beating, and the intelligent panel ensures durability. It is further improved with C-TACKTM technology to increase the grip power and control. It is also built with Rev Tack Recharge, which makes the grip easy to wipe with a damp cloth or through the use of the washing machine.
Moreover, it is certified with the NOCSAE standards and passes the qualification for a safe sports accessory. Cutters REV Pro is also popular among football enthusiasts because it performs well in any weather. This can be attributed to its NFHS and NCAA quality.
When it comes to the sizes and color variety, it has plenty of colors to choose from and many sizes as well. In addition, the appearance of the gloves is stylish and comfortable to wear because of the mesh designs.
#2. Cutters Gloves C-TACK Revolution

Do you like to have an edgy and comfortable glove for your football game? Try this cutter's special gloves certified with NOCSAE, NFHS, and NCAA standards that ensure the safety of the sportswear accessories. It can be used in all types of weather conditions. When it comes to the grip, it was made from C-TACK technology which connotes powerful, flexible, and controllable functions.
Moreover, this type of gloves can be washed through the washing machine and dried up as well. It has four standard sizes ranging from small, medium, large, and extra-large. In terms of the color variety, this brand and model have royal blue, black, red, gold, dark green, orange, and pink.
#3. Cutters Game Day No Slip Football Gloves
Get pro-grade quality with Cutters Game Day No Slip Football Gloves. From awkward weather to slick surfaces, these tacky football gloves have the perfect amount of grip to let you execute and make plays all day. With a silicone palm and stretchy fabric finger construction, your hands will feel like they're flying, rain or shine.
Choose these high-quality, professional-level football gloves if you want to stimulate your natural talents for fumble-proof plays and score a touchdown this season.
These gloves are designed specifically for competitive games and meet SFIA requirements for NFHS/NCAA play. They are also easy to maintain and machine washable. The gloves come in various sizes, so you can find the perfect fit for everyone on your team.
#4. Cutters Rev 2.0 Receiver
Queue on the selling line now and order these amazing gloves with off-beat style and amazing features. It meets the standard requirements for safe gloves specifications through NFHS, SFIA, and NCAA. It can be used in all weather conditions, and it may be washed and dried using a washing machine.
In terms of its appearance, it features extreme clench functions and is ideal for players, who use lightweight gloves with flexible and stretchable characteristics. It is derived from a 2-Way elastic material, finger-lock gussets, compressed neoprene cuff style, and engineered with C-TACK technology for durable, tough, and powerful gloves that can withstand pressure. It is available in various sizes, from youth extra small to adult extra-large, and has different colors such as black, red, royal blue, and white.
#5. Cutters Game Day Padded Football Glove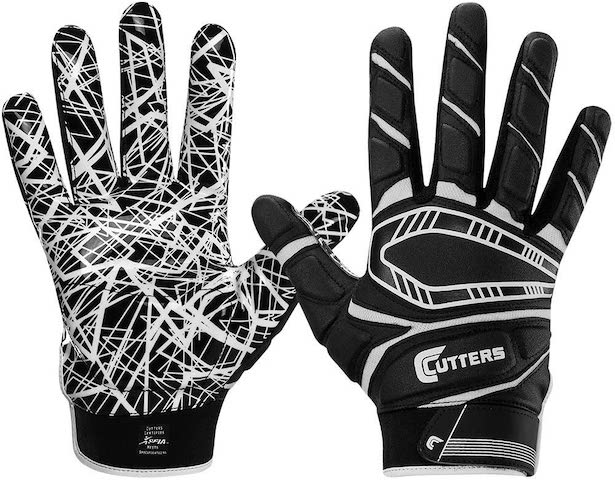 Cutters has a wide selection of gloves perfect for every position on the field, but this version of Cutters Game Day works best for linemen and all-purpose players.
This precision-cut Game Day Padded Football Glove is made with extra cushioning and protection on the back of the hand. This lightweight, flexible back keeps airflow to keep your hands cool and comfortable and amps your stealth. This glove was made to impress with its silicone palm and precision stitching. And if you're looking for a quality football glove at a price that won't break the bank, this is it!
#6. Cutters Julian Edelman Football Glove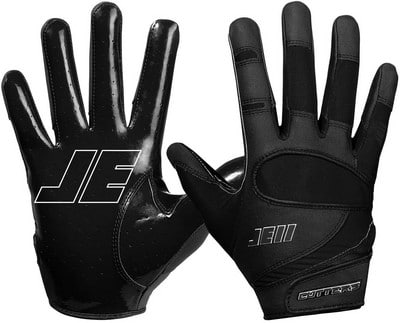 Specially developed and designed with input from The Man himself, Julian Edelman, the one and only 2019 Super Bowl MVP, these gloves have gripped and lifted the Lombardi Trophy.
With its Air C-TACK Extreme Grip tech, Cutters Julian Edelman Football Glove provides receivers the best grip they could ever have for ultimate performance. It is made to provide a secure and flexible comfort of the back of the hand, Intelligent panel addition for more support and durability, and flex zones that promote flexibility. This meets the SFIA specification for NFHS/NCAA play and is specially built so you can play like a pro.

If you like this post, be sure to check our site for more product roundups.