There are many shoulder pads available on the market and these reviews will help you pick out the best football shoulder pads that are going to improve and protect your game. We've also taken the time to break down some important info as well as how to pick out your gear based on position and preferences. Below are the best football shoulder pads for your consideration.
The Top Football Shoulder Pads Reviews For Kids, Youth & Adult 2021

Here are the best football shoulder pads we have found based on our research:
#1. Rawlings Momentum Youth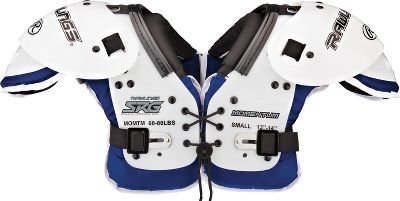 Features:
Built-in clavicle channel
Single strap hook-up on size Medium to 3X-Small
Shoulder build-up for extra protection
Constructed with a cantilever to provides excellent protection
Double strap hook-up on a size Large to 2X-Large
Designed specifically for protecting youth players at all positions
Rawlings Momentum Youth shoulder pads are great all position youth shoulder pad. It's a highly rated shoulder pad providing maximum protection to players who have put it into use; this has been huge as a result of the cantilever construction that is used to provide a player with the maximum protection in the field. With a low-profile design that is meant to increase the range of motion and comfort, the pads have everything a youngster needs to perform well and stay protected.
#2. Barnett Vision II

Features:
Very resistant ABS shell
Dual-density PU foam, cushions with heavy-duty nylon
Very comfortable and secure
Anti-microbial treatment
Ideal shoulder pad designed for the skill
For the match, offers both protection and ease of motion
Vision II competition football shoulder pad, QB-WR-RB-DB
Barnett Vision II shoulder pad is competition grade shoulder pads that are both durable and lightweight. This item is created to take in tackles and hits whilst still giving a player the allowance for comfort and ease of mobility without adding extra weight to their shoulders. These pads are also treated using an anti-microbial treatment and this implies that regardless of how a player sweats, they will fight against grossness and smell of the pads. They are a great option for both matches and practice.
#3. The Riddell X-Force II JR Varsity All Purpose Flat

Features:
Padded collar
Smooth epaulets for low profile
Multi-Purpose flat pad design
Flat pad design to improve mobility
Z-Fit Belts to provide the reliable fit and hold a pad
The Riddell X-Force II JR Varsity all-purpose shoulder pads can be put on by any player and in any position on the field. The wearer has more capability for mobility and extraordinary coverage is also offered to the wearer of these pads. They are fitted with two belts that help in holding the pads. This pad is however recommended for youth players and those at the level of high school.
#4. Schutt Sports Mid Flex 2.0 All Purpose Shoulder Pad
Features:
Light and durable interior spacer fabric
Stainless steel hardware ensures longer-lasting performance
Flat pad design with no cantilever for a low profile
Raised corrugation design adds strength and durability
Designed for high performance at all positions for Youth players
AEGIS™ antimicrobial treatment prevents the buildup of odor-causing mold, mildew, fungus, and germs
Hit the ground running with Schutt Sports Mid Flex 2.0 All Purpose shoulder pads featuring extra body length protection for any rookie or youth team veteran. These shoulder pads are one of the lightest in the game and their design can accommodate players from junior to youth level. Don't get left behind, youth football is important in the development of any player and staying fit is only achieved through great equipment.
#5. Rawlings Combat 36L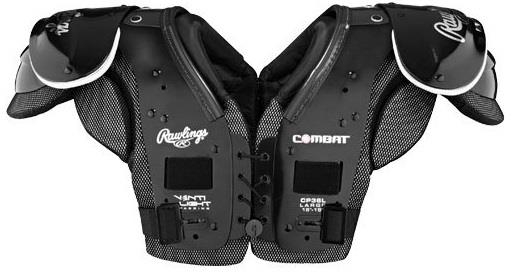 Features:
Low-profile cantilever construction
Great all-purpose pad
Single strap hook-up
Clavicle channel for excellent shoulder protection
Rawlings Combat 36L Shoulder Pad doesn't fail at inspiring any football player with its look that is of premium quality and unique. Low profile cantilever construction provides hitting protection without sacrificing mobility or field vision. The pads feature venti Light pad technology which helps reduce overall pad weight while still providing the same great protection you expect.
#6. Xenith Xflexion Varsity (Large & Small)

Features:
Varsity football shoulder pads
Low-profile removable front and back pads
Spine Protective Plates and Floating Sternum
Durable belt style chest straps with strap pocket
Cantilever straps help disperses energy from contact
Light-weighted Injection Molded plates reserve anatomical form
Aware-Flow® Shock Absorbers release air to minimize sudden movement and force
Xenith Xflexion shoulder pads are another impressive shoulder pad that is suggested for all football players regardless of their playing position. This lightweight pad is built to maximize your mobility, thereby allowing you to stretch for that spare inch. Ultra-lightweight allows footballers to keep their steps and stay protected on the field.
#7. Schutt Sports Air Maxx Flex All Purpose

Features:
Stainless Steel hardware
Removable deltoid pads
BIOTHANE™ belts create a snug and secure fit
Varsity football shoulder pads
Triple Shoulder Protection
Removable body for easy hand washing of cushions
Raised arch corrugations add strength, ventilation, and durability
Low-profile epaulets and caps help eliminate grab points
Schutt Sports Air Maxx Flex multi-purpose football shoulder pads are for versatile players that rarely take a down off. These pads offer a combination of the latest in cushioning technology to keep you fresh all game long. A new tactical arch design reduces the weight of the pads and allows maximum range of motion. Recommend for fullbacks, defensive ends, linebackers, tight ends, and linemen. The Schutt AiR Maxx Flex 2.0 All-Purpose Shoulder Pads offer an ideal balance of comfort, performance, and protection.
#8. Rawlings SPTNYF X-Spartan Shoulder Pad (Youth)
Features:
Flat pad construction for youth players
Low-profile design provides for excellent mobility and field vision
Durable polyester mesh fabric lining with Pro-Dri Plus
Pro-Dri Plus material with moisture-wicking and antibacterial protection
Perforated EVA foam join together with a strong polyethylene interior
Rawlings SPTNYF X-Spartan Pads gives a new look to the traditional shoulder pad and are built having in mind the performance and safety of the players. Customizable Memory Foam clavicle pads give you a personalized fit. It is truly an amazing Rawlings SPTNYF Youth X-Spartan Shoulder Pad.
#9. Douglas JP32 Series Youth (All Positions)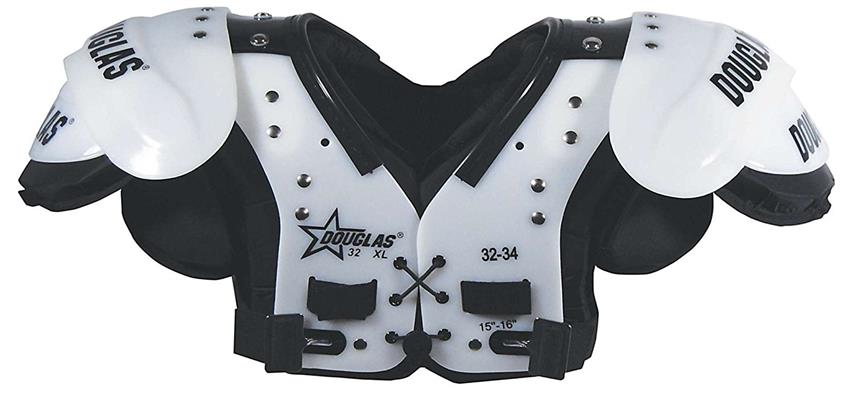 Features:
Air-Management
Great for all positions
Single sternum hook-up is great for all junior players
An optional rib combo or backplate for added protection
Cut-away shell design also provides better mobility and arm extension
The Douglas JP32 shoulder pad is a resilient and very durable type of products that work awesomely well in protecting players in all the positions that they play. They also feature a low profile design which is excellent for throwing, catching or tackling.
#10. Adams Adult Blitz III (Large size)

Features:
Cantilever construction
Deltoid Pad for Better Coverage
Heavy-duty waterproof nylon
Dual-density foam cushion throughout
Treated with Anti-Microbial Bac-Shield
Perforated EVA and Open Cell Foam to Maximize Air Ventilation
Adams Blitz-II Adult football shoulder pad is a multi-purpose pad designed for heavy-hitting positions. It is certainly among the best football shoulder pads that are available on the international market today. Furthermore, this shoulder pad has great air ventilation making it's a very comfortable piece of accessory to wear.
#11. Schutt Sports XV HD Varsity Football Shoulder Pads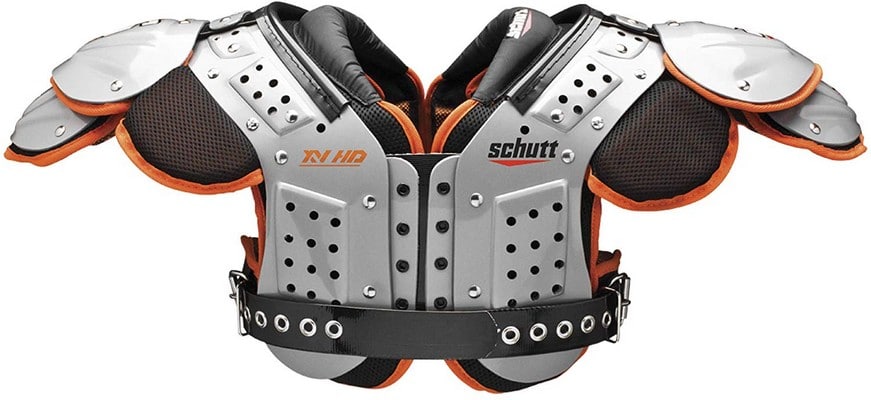 Features:
All-purpose
High-performance and ventilated arch design
Raised corrugations
Lightest varsity shoulder pads
High-density EVA foam for optimum absorption and durability
Schutt Sports XV HD Varsity Football Shoulder Pads are specially designed to absorb impact specifically around the AC joint and provide maximum shoulder protection. The hook and loop pad attachments can be repositioned or removed to ensure a precise fit and coverage in the key hitting areas. The moisture and heat management system of the XV HD allows airflow to and from the body which allows the skin to dry and the body to continue its natural cooling action. The All-Purpose pad has a longer cut to accommodate multiple athletes playing various positions on the field while maintaining maximum comfort and coverage.

8 Factors to Be Considered Before Buying Shoulder Pads



Are you aspiring to become a footballer? If so, you should know clearly that you need proper gears for playing this sport because this sport is somehow dangerous. When playing football there's always a strong chance that you could get injured since it is extremely competitive, and this is why players are required to wear special equipment which is appropriately designed to ensure their protection.
Without them, it would be totally ineffective to try things like breaking hits or tackling and it would also leave the player prone to severe injury. Having the best protection for your upper body is to keep you moving on the football field.
Shoulder pads are vital pieces of football safety equipment. However, not all shoulder pads are created equal. Therefore, you have to consider a lot of things. Here are a few considerations you have to keep in mind before you make a commitment to buy a set of shoulder pads.
#1. Weight
The best football shoulder pads should not be heavy for the user. If the weight is too heavy, even by the slightest bit, they will slow the player's speed down and steal their endurance as they will be wasting that much-needed energy supporting all that extra weight. Go out and look for designs that are lightweight and don't sacrifice on the construction quality. Compare them to others if you shop simply for generic or multi-position pads.
#2. Range of motion
The players should also be able to move without difficulty. Having shoulder pads without a good range can leave any football player just as prone to injury because it will force them to move in unnatural ways. Having the ability to comfortably and effectively move your arms, neck, and head during a game is essential to every tackle or catch. Shoulder pads should provide the utmost range of motion for players without sacrificing weight considerations or protection.
#3. Rigidity
The best shoulder pads must be rigid; manufacturers have identified means of improving the rigidity of the shoulder pad without adding extra weight. And also the shoulder pads should be flexible enough to let the player move with ease during the game, whether throwing, running, tackling or catching.
#4. Contact Dispersion
When a player gets hit, shoulder pads are supposed to absorb some of the shocks of impact and must be able to disperse so as not to transfer all the force to the body and cause broken bones and/or bruises.
#5. Durability
Durable shoulder pads will not crack or break on harder hits and they will protect your body from serious injury and you will be able to play with the pads for longer periods before you need to replace them. Having more durable football shoulder pads are expensive but look for the perfect balance between price and features to give you the best value.
#6. Quality construction
A football player should ensure that shoulder pads they are going to buy are built out of superior quality so as to hold up under every sort of abuse that befalls it. Not only does quality construction ensure the safety of the player but they also ensure that you do not have to buy a new set each season that comes.
#7. Fit
Proper fit is another critical factor to be considered when trying to buy a set of shoulder pads. If these pads are too loose or too tight you will not only be sacrificing your gameplay but you could end up setting yourself up for potential injury when you take the field. The shoulder pads should allow optimal space for you to have mobility and to freely use your arms to make that last-minute game-winning tackles.
#8. Types
Shoulder Pads protect the body during all the tackles, pushing, pile-ups and sacks that occur during the game. You can maximize your effectiveness on the football field by making sure you are geared up with football equipment made for your position. Here are some types of shoulder pads that will make it easier to live up to your position.
All-Purpose pads
The Lineman Pads
Quarterbacks pads
Defensive backs pads
Wide receivers pads
Full-backs pads
Line-backers pads
Conclusion
Football is full of excitement and action; finding the best football shoulder pads is important for so many reasons. We hope these review will assist you in choosing the best shoulder pads and we would like to encourage you to let us know about your experiences with these pads and if you think we have missed any of you favorites, please comment in below section.