#1. Schutt Sports Mid Flex 2.0 All Purpose Shoulder Pad
These shoulder pads are one of the lightest in the game and their design can accommodate players from youth to junior high (some high school players can wear it too). One advantage is that this is a shoulder pad that can be worn by any player regardless of their position in the field and it features a design that takes care of safety as well as comfort.
Unlike a number of other shoulder pads, this one has a cool feature of protection for the extended body length. This is a great feature that provides the wearer with extra coverage and safety in places that typical shoulder pads cannot provide.
These shoulder Pads also have the Flat Pad Design which is designed by Schutt and which permits full mobility fully without having to sacrifice the protection that is supposed to be given. The type of padding deployed in this shoulder pad is built with internal channels having double-layered EVA foam. This double layer allows for better absorption of impact when violent collisions occur during the game.
#2. Schutt Sports Air Maxx Flex All Purpose

Not only does this accessory deliver a high protection level of protection, but they also have the advantage of working well for players in a variety of positions. This makes them the ideal shoulder pads for players who are working on both sides of the ball or those players spending time on a special team on top of their defensive or offensive position.
This shoulder pad also features the TPU cushion which is a high quality type of cushioning which does a wonderful job in holding firm and dissipating impact so as to keep players devoid of injuries during violent collisions. These are also very lightweight pads which makes them perfect for players who are in constant motion in the gridiron.
#3. Schutt Sports XV HD Varsity Shoulder Pads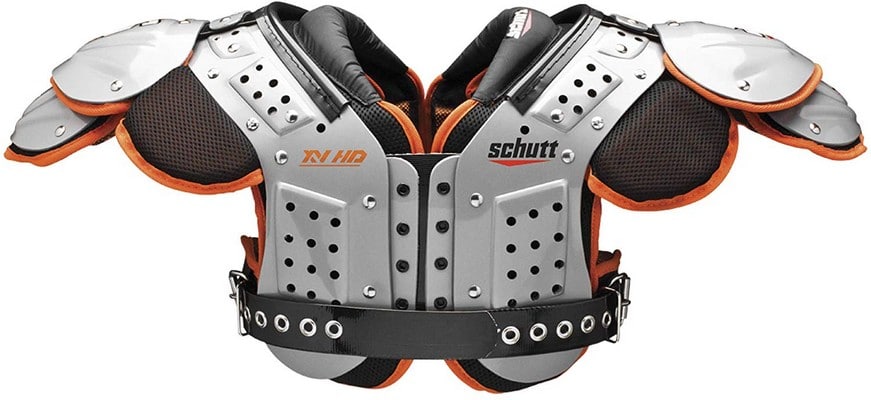 An all-purpose shoulder pads ideal for a linebacker, fullback, defensive end, offensive, & defensive line, Schutt Sports XV HD Varsity Football Shoulder Pads are specially designed to absorb impact specifically around the AC joint and provide maximum shoulder protection. The All-Purpose pad has a longer cut to accommodate multiple athletes playing various positions on the field while maintaining maximum comfort and coverage. The hook and loop pad attachments can be repositioned or removed to ensure a precise fit and coverage in the key hitting areas.
The moisture and heat management system of the XV HD allows airflow to and from the body which allows the skin to dry and the body to continue its natural cooling action. The pad is designed to be a low profile for improved mobility and is the lightest varsity shoulder pad built by Schutt while maintaining pro-level standards.