Nike has been one of the most popular companies to ever produce sports gear. This American-based corporation is dedicated to designing athletic footwear, sports apparel, and other useful accessories. Since the year 1964, it has already been gaining more and more attention because of the state-of-the-art qualities of their products.
Football visor is one of the quality football protective gear this company produces. As football players always demand the best optic clarity while in the field, this safety equipment is a must. Nike's football visors gain numerous positive reviews from consumers all over the world. Mostly because of the excellent visual quality.
What makes these visors are a standout is its glare-free feature that is quite an advantage when you are playing. Many players tend to get distracted while there is too much brightness from the sun that causes glare and as someone who wants to be 100% focused on the game, you need eye shields to protect your eyes from it.
There are several visors that are produced by Nike. The most popular ones are the Nike Gridiron eyeshields for youth and adult as below:
Nike Gridiron Eyeshield – Youth Size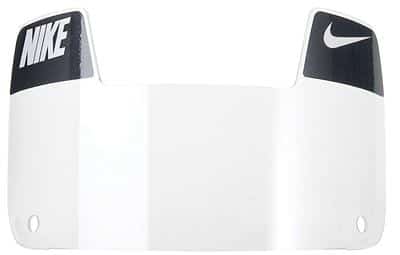 This clear youth Nike Gridiron visor is designed in such a way that is able to fit youth's helmet. It is highly recommended for youngsters. Basically, it has the qualities and features as the adult version. What you can expect is its ability to protect the eyes from potential blows and field debris. It helps reduce the risk of cracking at connection points. The Max Optics feature provides a clear, better field vision as well as its polycarbonate feature that reduces the risk of getting scratches and shatters. The multi-colored decal pack is also included in the package.

Nike Gridiron Visor 2.0 – Adult Size
If you want to up your game, you need something that provides you a clear and excellent vision and this football visor brand has that quality. This eye-shield is a much better choice compared to face masks. It has many advantages such as its ability to dampen attachments that prevent you from cracking at certain connection points.
Add to its features is its Max Optics, a wrapped lens that gets rid of the distortion. You can't be distracted while playing because this special feature allows you to enjoy a clear visual field in every direction.
Not only comes with the best visual quality, this equipment is also noted for its tough resistance because of its durable polycarbonate which does not permit shatter and even a single scratch.
Physically, this useful equipment is curve-shaped. You will notice how the style fits you nicely because it also doesn't bend much. It has soft rubber washers that help lessen the risk of cracking which is an absolute no-no when you are playing.
Its molded polycarbonate also gives you the advantage because it's basically hardwearing, enough to give you confidence while you're in the game. Basically, it fits most helmets. You can see the instructions on the label to find out how to attach it properly.
Dark Colour Version (Grey/ White/ Black)
Personally, I find these qualities good enough for such a reasonable price. The features are admirable and worthy. You can click here buy these Nike's football visors.